at
The Phoenix Theatre
Wednesday 24 May – Saturday 26 August 2023
CO-WRITTEN BY AL MURRAY,
MATT FORDE AND SEAN FOLEY 
"The evening triumphs through technical slickness, loving attention to detail, a high gag-rate and character-count and a trenchant storyline… a barrel-load of offence-giving fun and a salty dash of rebellion." ★★★★★
Dominic Cavendish, The Daily Telegraph
"A healthy disrespect for the Establishment… technically ingenious production… the smarts to crowbar in updated topical references" ★★★★
Mark Wareham, The Mail on Sunday
SPITTING IMAGE FOOTAGE & IMAGERY HERE
www.SpittingImageTheMusical.com
Idiots Assemble: Spitting Image The Musical  written by a tour de force comedy team made up of  Al Murray (The Pub Landlord) Matt Forde (The Political Party) and double Olivier award winner  Sean Foley (The Upstart Crow, The Play What I Wrote) makes its West End Premiere at the Phoenix Theatre in London.
Critically acclaimed when it was developed at the Birmingham Rep earlier this year,  the show is directed by the Rep's Artistic Director Sean Foley alongside a creative team spearheaded by the original Spitting Image co-creator, Roger Law.
Idiots Assemble: Spitting Image The Musical  will run from Wednesday 24 May to Saturday 26 August 2023 with a Press Performance on 14 June 2023 at 7pm.  Tickets are now on sale from https://www.thephoenixtheatre.co.uk/shows/idiots-assemble-spitting-image-the-musical.
Introduced by Master of Ceremonies Sir Ian McKellen, the musical features a stellar line-up of over 100 puppets of the great and the not so good.   Tom Cruise is tasked by His Majesty The King to create the UK's very own 'Magnificent Seven' of celebrity misfits – Tom Cruise, Greta Thunberg, Meghan Markle, Tyson Fury, RuPaul, Angela Rayner and Idris Elba –  to save the nation from a cabal of dark forces seeking to destroy it – that's all the usual suspects. And James Corden.   They are joined by:  Ant & Dec, Donald Trump, Elon Musk, Keir Starmer, Stormzy, Vladimir Putin, The Tory Party Cabinet and many many many many many more.
'When Spitting Image first appeared on British TV it blew people's minds,' said Al Murray 'Now it's going to do it all over again in the West End.  All the elements the show was famed for: outrageous depictions of the great and the not so good, catchy songs, famous faces saying the things you've always wanted to hear them say, all reinvented for the stage. You won't know where to look!'
Matt Forde commented: 'Nothing can prepare you for what you're about to see, it's the wildest show in the West End. I don't want to give anything away, but you'll never look at Suella Braverman in the same way again.'
Sean Foley added: 'I'm thrilled that Spitting Image The Musical is set to transfer to the West End.  Audiences at Birmingham Rep, where the show premiered, loved the classic Spitting Image mix of political satire, celebrity send up and Royal family soap opera.  With Rishi Sunak and Angela Rayner battling it out, Tom Cruise making his theatrical debut and Adele singing her heart out, I hope this uniquely anarchic musical will continue to make people laugh.'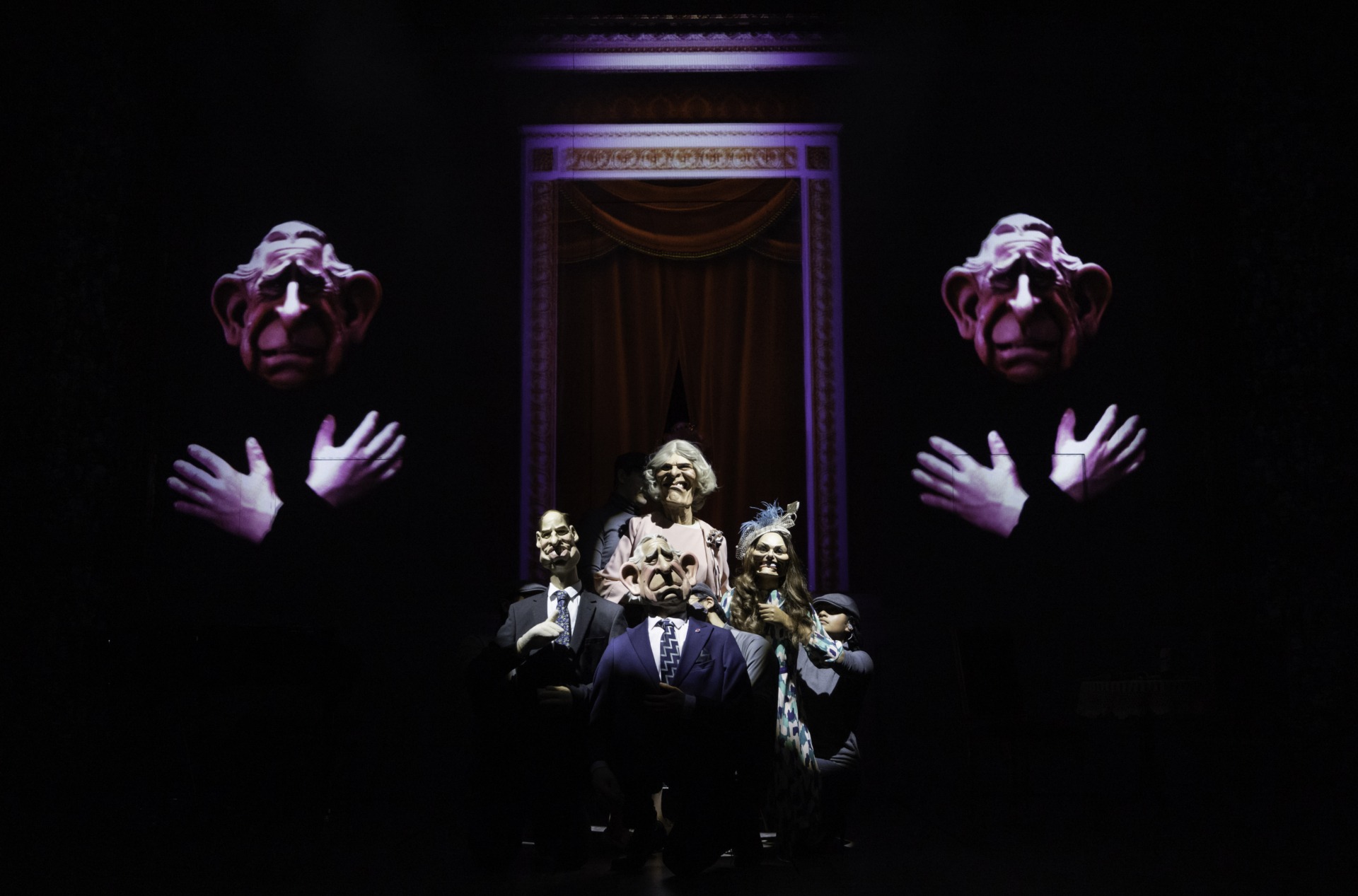 photo at the Birmingham Rep by: Mark Senior
The full creative team is:   Director Sean Foley, writers Al Murray, Matt Forde and Sean Foley, Caricaturist Supremo Roger Law, Set Designer, Alice Power, Video Designer Nina Dunn for Pixel Lux, Lighting Designer Tim Mitchell, Puppet Master Scott Brooker, Costume Designer Lotte Collet,  Choreographer Lizzi Gee, Incidental Music Composer and Musical Director Alexander S. Bermange, Incidental Music Arranger and Producer Jerome van den Burghe,  Creators of Spitting Image Peter Fluck and Roger Law, General Manager Emma Brunjes for ebp, and Producers Richard Allen-Turner and Jon Thoday for Avalon.
The BAFTA and Emmy award-winning satirical Spitting Image television series originally ran for 18 series between 1984 and 1996, and was watched by over 15 million viewers. It recently made a popular return to TV on BritBox, where across official social media channels, Spitting Image content has been hugely popular with over 200 million views globally, three number 1 trending videos on YouTube and achieved critical praise across the political divide.  Three one-off specials for ITV have also seen huge success on terrestrial television: with a 4.4 million audience achieving ITV's highest Saturday night ratings at that time in four years.
Idiots Assemble: Spitting Image The Musical is presented by Avalon, and originally produced at Birmingham Rep where it had a hugely successful run.
For further information and interview requests please contact
Nada Zakula at Story House PR
nada.zakula@storyhousepr.co.uk or +44 7831 766086
Dan Lloyd or Perrine Davari at Avalon
dlloyd@avalonuk.com or pdavari@avalonuk.com
Date of Issue:  Thursday 23 March 2023
Notes to Editors:
Listings information:
Dates:    Wednesday 24 May – Saturday 26 August 2023
Press and Gala Night:  14 June 2023 at 7pm
Phoenix Theatre
Charing Cross Road
London WC2H 0JP
Tickets:  from £25
Age Guidance: from 12+
Content Warning:  Contains some strong language
Box Office: 
https://www.thephoenixtheatre.co.uk/shows/idiots-assemble-spitting-image-the-musical
www.SpittingImageTheMusical.com
Box Office Telephone Booking
0844 871 7615
Access booking line
0333 009 5399
Biographies:
Al Murray
Al Murray with his alter-ego, The Pub Landlord, is one of the most recognisable and successful comedians in the UK.
For over 20 years Al has filled arenas and the largest theatres around the world as The Pub Landlord, and won numerous awards and accolades, including the Edinburgh Comedy Award (formally Perrier Award, after a record four successive nominations) and secured Olivier Award nominations for both of his sell-out West End runs.  He has hosted countless TV series, including the acclaimed entertainment chat show Al Murray's Happy Hour (ITV) and the ground-breaking sitcom Time Gentlemen Please (Sky).  Al has made multiple appearances on The Royal Variety Performance (ITV) and hosted Live at the Apollo (BBC) and Live at the Palladium (ITV).
Swapping his comedy stage persona for himself, Al authored and presented the Broadcast Award-winning five-part series Al Murray: Why Does Everyone Hate the English? and Al Murray: Why Do The Brits Win Every War? (both Sky).  Combining his passion for film and history he filmed two specials for BBC Four: Al Murray's Great British War Movies and Al Murray's Great British Spy Movies.  Al also co-hosts the hugely popular WW2 history podcast, We Have Ways of Making You Talk with fellow bestselling military author James Holland.
As a writer, Al has also enjoyed great success with his books including Book of British Common Sense, Think Yourself British, Great British Pub Quiz Book, Watching War Films with My Dad and, most recently, Command, an entertaining and sharp analysis of the key allied military leaders in WW2, which was released this autumn.
Matt Forde
Matt Forde is one of the country's most in-demand satirists.
After 70 sold out Political Party podcast live shows at Westminster's The Other Palace, Matt moved to the West End's Duchess Theatre in 2021 for a twice extended fortnightly residency continuing in to 2023. He has brought Parliament to life with his stand-up and debate with some of politics' most powerful figures including Keir Starmer, Nicola Sturgeon, Tony Blair, Jacob Rees-Mogg, Angela Rayner, Michael Heseltine, Anthony Scaramucci, Alastair Campbell, Gordon Brown and Gary Neville. The UK's leading political podcast has amassed over 7 million downloads, received numerous nominations from award bodies including the British Podcast Awards and Chortle Awards and is regularly highlighted as a top podcast pick in the press.
He has hosted four series of Unspun with Matt Forde on Dave, receiving several Broadcast Digital Award nominations and adding to numerous broadcast credits including: Have I Got News For You (BBC One), The Royal Variety Performance (ITV), Channel 4's Alternative Election Coverage, Mock The Week (BBC Two), 8 out of 10 Cats (Channel 4), Hypothetical (Dave) Rory Bremner's Coalition Report and Rory Bremner's Election Report (BBC Two), Question Time (BBC One), This Week (BBC One), Newsnight (BBC Two) and Daily Politics (BBC Two). He currently presents Absolute Radio's weekly Rock 'n' Roll Football Show. Following this Matt wrote and voiced characters for Spitting Image (BritBox/ITV) including Boris Johnson, Keir Starmer and Donald Trump.
Matt is also the co-host of the 2022 British Podcast Award winning British Scandal with Alice Levine, telling the stories of the murkier side of the British elite, from Phone Hacking to Saville to Profumo.
His first book Politically Homeless was listed by The Sunday Times as one the Best Political Books of 2020.
Also described as "our foremost satirical stand-up" by The Sunday Times, Matt regularly plays sold-out critically acclaimed nationwide tours, including his recently wrapped Clowns To The Left of Me, Jokers To The Right.
Sean Foley
Sean Foley is an actor, writer and director. A  double Olivier Award winner and Tony nominee, his work – as lead creative on 14 West End shows: as co-writer/star; writer/director; adaptor/director; and director – has also been Olivier nominated multiple times. He has – uniquely – been personally nominated in the acting, writing and directing categories.
Theatre credits include: the Olivier nominated The Upstart Crow, (director), starring David Mitchell and Gemma Whelan; The Play What I Wrote, (co-writer/director), first major revival guest starring Tom Hiddleston, Adrian Lester, et al; ; his Olivier Award winning production of Jeeves and Wooster in Perfect Nonsense, (Duke of Yorks), starring Stephen Mangan and Matthew MacFadyen; Olivier Award nominated The Miser, (co-writer and director, Garrick Theatre), starring Griff Rhys Jones; The Painkiller, in Kenneth Branagh's West End season, (as adaptor/director, Garrick Theatre), starring Kenneth Branagh and Rob Brydon; the 5 times Olivier nominated The Ladykillers (as director and script associate), including Best Director, Best New Play and Whatsonstage Award for Best New Comedy, Gielgud, starring Peter Capaldi; the Olivier nominated, Arturo Brachetti: Change, (as writer/director, Garrick); the Olivier Award winning Do You Come Here Often? (as co-writer and actor, Vaudeville); the Olivier Award winning The Play What I Wrote, (as co-writer and actor – further jointly nominated as Best Actor, Wyndham's). The play was also Tony Award nominated on its Broadway transfer); the Olivier Award nominated, Ducktastic, (as co-writer and actor, Albery). The Walworth Farce, with Brendan, Domhnall and Briain Gleeson, Olympia Theatre, Dublin.
Further directing work includes: The Man In The White Suit, (as writer/director, Wyndhams), starring Stephen Mangan; The Dresser, (Duke of York's); his RSC debut, adapting and directing Thomas Middleton's A Mad World My Masters, (Swan Theatre, Stratford, and Barbican); Harry Hill and Steve Brown's, I Can't Sing! at The London Palladium, starring Cynthia Erivo; Present Laughter, The Critic, and The Real Inspector Hound, (Chichester Festival Theatre); Joe Orton's What The Butler Saw, (Vaudeville); Ben Hur, (Watermill); Pinter's People, (Theatre Royal, Haymarket); as writer only, his adaptation of Eugene Ionesco's Amedee, or How To Get Rid Of It, debuted at Birmingham Rep.
Sean has also directed the live shows of leading comedians, including: Joan Rivers: A Work In Progress, (Leicester Square); Armstrong and Miller Live (UK Tour); Catherine Tate Live (UK and Australian Tour)
As co-artistic director of the right size, he created, co-wrote and starred in ten original stage comedies 1990 to 2000. The company played in over 25 countries around the world, winning many international awards.
His feature film directing debut, Mindhorn, written by and starring Julian Barratt & Simon Farnaby, was first seen at the London Film Festival and won the London Film Comedy Award for Best First Feature. TV directing includes episodes of Sky's anthology series, Urban Myths: Marilyn and Billy, starring Gemma Arterton; and, Diana and Freddy.
Sean is the Artistic Director of Birmingham Repertory Theatre.
Avalon
Avalon is a multi-award-winning talent management, television production and live promotion group with offices in London, Los Angeles and New York.
Avalon, Artist Rights Group (ARG) and The Agency represent a prolific roster of artists including comedians, actors, presenters, writers and directors. Avalon's numerous ground-breaking returning television shows currently in production include: Not Going Out (BBC), the UK's longest running sitcom on air; Taskmaster (Channel 4), the BAFTA-winning hit entertainment format showing in 150 countries; multi Emmy-winning, Last Week Tonight with John Oliver (HBO); The Russell Howard Hour (Sky), one of the network's most successful entertainment show launches since 2010; Starstruck(HBO Max/BBC), a sitcom from Edinburgh Comedy Award winner Rose Matafeo; Buffering (ITV), a sitcom co-created by and starring BAFTA-winning comedian and voice of Love Island, Iain Stirling.  Breeders, the comedy series starring Martin Freeman and Daisy Haggard (FX/Sky); the immediately recommissioned, The Chris & Rosie Ramsey Show (BBC); a brand-new series of the iconic comedy football show blending football fanaticism with celebrity chat, Fantasy Football League(Sky); and multiple comedy specials for Amazon Prime Video, HBO Max and Netflix.
Other landmark Avalon shows include BAFTA winning and multi  Emmy nominated Catastrophe (Amazon Prime Video/Channel 4), multi BAFTA-winning TV Burp (ITV), and Workaholics (Comedy Central USA). Avalon also distributes its catalogue of programmes to over 150 countries worldwide. Avalon has produced many globally successful podcasts and is regularly at the top of the UK iTunes chart with the multi-award-winning Shagged. Married. Annoyed by Chris and Rosie Ramsey.
As a leading promoter of live comedy, Avalon produced Newman and Baddiel: Live at Wembley, the UK's first arena comedy show; Jerry Springer: The Opera, the first West End show to win all four UK 'Best New Musical' awards; and has continued to produce and promote live shows globally, as well as promoting more winners and nominees of the prestigious Edinburgh Comedy Award than any other company.
For Avalon news visit: www.avalonuk.com/press or follow @avalonent